News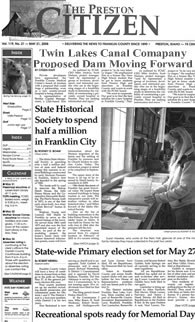 This page contains links to relevant news articles and company Press Releases.
Water Allocation for the 2017 Irrigation Season
The Twin Lakes Board met recently, along with the workers to examine the stream flow, snow pack and etc.
It was estimated that our water allocation for the 2016 water year to be 1.7 acre feet per share.
Please try to have your systems ready, make sure you don't have any leaks or etc.
Burning Canal Banks:
We would like to invite the stockholders to help out and burn their canal banks, around their own yards and risers, we don't want to be a risk at burning something on your property. From burning weeds this will help prevent weeds from getting into the canal, thus helping better delivery of the water. We would appreciate your help at doing this as soon as possible. Open burn is until April 15th, If you want to burn after that date call the Fire Dept. 852-3111 to see if you would be able to.
Notice When Turning Water On/Off: We ask your cooperation to let your watermaster know when turning your irrigation systems on and off. The company requires 24-hour notice when doing so.
When you want water call your watermaster. If you have any questions or concerns contact your watermasters:
Watermaster: Logan at 339-5050, Ivan at 339-5051 or Reed at 852-2295.
- Twin Lakes Canal Company Board of Directors
More Links and articles coming soon!
Copyright © 2008-2010 Twin Lakes Canal Company All Rights Reserved
Site Design & Development by 100 MPH Media